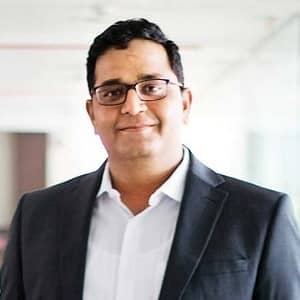 "It's not just about consuming less it is about protecting more. This is an opportunity for India to become a benchmark for the world in environment protection"
Vijay Shekhar Sharma
is the Founder of Paytm Mobile Solutions Private Limited and serves as its Chief Executive Officer. Mr. Sharma Founded One97 Communications Ltd in 2000 and serves as its Chairman, Managing Director and Chief Executive Officer. He is a Partner of One97 Mobility Fund. Mr. Sharma is responsible for the strategy and direction for One97 Communications and leads it in all areas relating to business expansion as well as product roadmap. He serves as an Advisor of Socialblood.org. He serves as an Investment Advisor of One97 Communications Limited, Investment Arm.
Mr. Sharma has more than 10 years of experience in the telecom and new media industries, having founded his first venture XS Corps while he was at college, which he sold to Lotus Interworks LLC, New Jersey in 1999. Prior to founding One97 Communications, Mr. Sharma played key roles in a number of organizations such as Riverrun Software Services Group Limited, Inter Solutions Software Private Limited, Startec Global Communications Limited, focusing on the design and development of various products and applications for the technology, media, and telecom industries.
He serves as the Chairman of Paytm Payments Bank Limited. He has been a Director of One97 Communications Limited since December 22, 2000. He serves as a Member of Advisory Board of Milaap Social Ventures India Pvt. Ltd. He holds a Bachelor's degree in Engineering from Delhi College of Engineering.