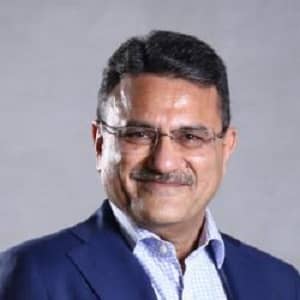 "The two words to describe Indian power sector would be catharsis & transformation. There is a catharsis of past & transformation of future."
Manoj Kohli
is Executive Chairman of SB Energy. SoftBank, Bharti Enterprises, and Foxconn have formed the JV, SB Energy, which will invest $20 billion over 10 years on renewable energy.
Before this, Manoj was Managing Director, Bharti Enterprises and responsible for the growth and operations of Bharti group of companies.
Manoj's key contribution has been building Airtel as no. 3 telco in the world. He was Managing Director and CEO (International), Bharti Airtel, and was responsible for leading the Africa operations, which was acquired in 2010. Manoj joined Bharti Airtel in 2002 and led Bharti Airtel's India operations for 8 years during which the customer base grew from 2 to 150 million.
Manoj was adjudged "Telecom Man of the Year" in 2000 and "Telecom Person of the Year" in 2004 by Media TransAsia and Voice & Data respectively. He is on the Board of HK University, a member of the Academic Council of the Faculty of Management Studies and has been awarded the "Best Alumni Award" by Shriram College of Commerce, Delhi University.
Manoj holds degrees in Commerce, Law, and MBA from Delhi University. Manoj also attended the "Executive Business Program" at the Michigan Business School and the "Advanced Management Program" at the Wharton Business School.