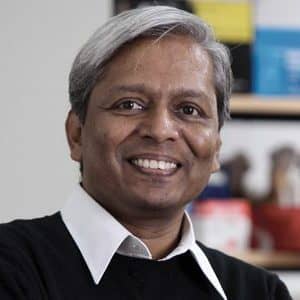 "The massive problems have to be solved, but in co-existence

, and we have to solve it not just by awareness and regulation but by investment and capital as well."
Professor K. VijayRaghavan
who was the Secretary of the Department of Biotechnology, Ministry of Science and Technology, has been appointed as the Principal Scientific Adviser (PSA) to the Government of India on 26 March 2018.
Professor VijayRaghavan was the Secretary of DBT for over five years from January 2013 till February 2018. He has also held additional charge of Secretary, Department of Science & Technology (DST), Secretary, Council of Scientific & Industrial Research (CSIR), Secretary, Ministry of Earth Sciences (MoES) and Secretary, Department of Health Research (DHR) at different periods during his tenure.
Prof. VijayRaghavan has a very distinguished record of being elected to numerous international bodies, notably as Fellow of Royal Society and US National Academy of Sciences. He is also a recipient of the Padma Shri, Infosys Prize, and several other accolades.
He was instrumental in the establishment of the National Centre for Biological Sciences and steered it as its Director between 1997 and 2013.
An alumnus of the Indian Institute of Technology, Kanpur and the Tata Institute of Fundamental Research, he continued his post-doctoral work in the California Institute of Technology.